The Yarmouth Rose will be departing Yarmouth harbour at 7.15am prompt on Saturday 29th June 2019 with the intention of seeing the first yacht round the Needles Lighthouse. (The first start from Cowes will at 7.30am)
We would anticipate spending time at the Needles to see the bulk of the fleet arrive at the Lighthouse, before returning to Yarmouth, whilst meandering amongst the yachts to give a "deck side view" of all the action afloat.
Duration is expected to be anything from 2.5 to 3.5 hours, so please leave more than ample time on your parking ticket as we may be late if the action is too good to miss?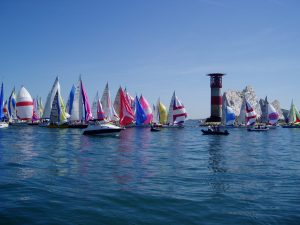 Adult £15, Child £10.  Spaces will be limited for passenger comfort so book early, either by email info@needlespleasurecruises.co.uk or tel 761587